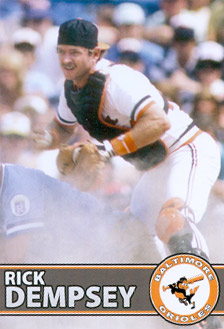 Appearances
Rick Dempsey, a top motivational speaker, is available for speaking engagements for public and private corporations, autograph signings and shows. Rick is an accomplished singer and entertainer, performing with the Deanna Bogart Band, and is also available for public venues and private parties, as well as other entertainment options.
Rick on Corporate Speaking
Rick on Sports / Team Speaking

Rick and Budweiser


For the 2018 MLB Season, Rick Dempsey has partnered with Budweiser to act as Baltimore Orioles 'Budweiser Legend' Ambassador. Across MLB, Budweiser is working with its team partners to identify iconic players from each franchise's historic teams to highlight the Legendary Moments that made these individuals great. In Baltimore, Budweiser is celebrating the 1983 World Series Championship, in which, Rick Dempsey won World Series MVP to cement a historic Postseason performance. This Bud's For Rick!

Across Baltimore, Budweiser will be leveraging POS at on and off premise accounts featuring Rick Dempsey hoisting the Commissioner's Trophy in 1983. These creative materials will be used across the 2018 MLB season, and Budweiser is excited to promote one of the greatest moments in Orioles' history.

In addition to the POS in market, Budweiser partnered with Rick Dempsey on an Opening Day Toast, where Rick raised a Bud to the start of another Legendary MLB season. This message was designed to celebrate the return of baseball, and to excite the people of Baltimore for the moments ahead in 2018. This content lived on Budweiser Channels on Facebook, YouTube, Twitter, and Instagram in the lead up to Opening Day, and was geo-targeted for the Baltimore DMA.